A High School Rockstar Wiki





A High School Rockstar Wiki is a collaborative encyclopedia with knowledge to showcase everything that covers the original series, "A High School Rockstar". This wiki is public which means anyone can edit it, but be careful what you put up. Enjoy this free service!
A High School Rockstar is a sitcom series produced by Laugh Productions. Set in Miami, A High School Rockstar is a comedy about the journey of two very different musicians: extroverted singer and instrumentalist Austin Moon, who is constantly getting into trouble; and serious and talented songwriter Ally Dawson, who can sing but has an extreme case of stage fright whom seemingly became more than friends in the series. Being an overnight internet sensation, Austin tries to balance his career with his school. Together with their best friends, Trish & Dez, they live their lives as high school students while helping Austin with his blooming career. More adventure came as Austin's adopted brother, Aaron Moon together with her girlfriend Lexi Reed, comes to Miami and joins the four. Now, the group teams up to make Austin's career be more successful while being in High school and at the same time help the others to find their own dreams.
| Episode | Character |
| --- | --- |
| | |
| Winters & Wonderlands is A High School Rockstar's Season 3 Christmas episode. It premiered on December 21, 2013. | Samantha Bennett is Tyler's hardworking, sassy, girlfriend who seems to hoin a lot of clubs and always acts as Dez's assistant in his directing. Samantha is very sweet but is straight forward when answering questions. |
| Song | Cast Member |
| --- | --- |
| | |
| Finally Me is a song featured in Season 3. It was performed by Ally in Sonic Boom to her fans after she releases her album in the episode, Albums & Fevers. | Spencer Boldman is an american actor who portrays the character of Aaron Moon. He was born in Dallas, Texas and has starred in numerous shows including his latest, Lab Rats by Disney XD. |
...that A High School Rockstar is a series adapted from the Disney Show, Austin & Ally?
...that Lexi Reed is a character from the Disney Show, A.N.T. Farm?
...that Spencer Boldman plays Adam in the Disney XD show, Lab Rats?
...that A High School Rockstar has been picked up for a Second Season?
...that cast, Ross, Laura, Raini, Calum, Stefanie, Spencer and Jack all sing or at least know how to play one instrument?
...that A High School Rockstar is the first fanon series in Youtube to have complete information, like episodes and characters and follow the timeline of a real TV Show, like weekly?
...that Season 2 will premiere this September 29, 2012?
...that Laugh Productions produces A High School Rockstar?
...that Jack Griffo appeared in the Disney XD show, Kickin' it?
...that Garrett Backstrom appeared in a number of episodes in the Disney XD show, Lab Rats?
...that the name "Aaron Moon" is the creator's screen name?
...that Laugh Productions is thinking of a Season 3 for A High School Rockstar?
...that Season 1 was cut from 21 episodes to 19 episodes?
...that Season 2 premiered with Secrets & Snakes?
...that Olivia Holt will guest star in A High School Rockstar?
...that Jennifer Veal, who played Nanny Agatha in JESSIE, will guest star in A High School Rockstar?
...that Laugh Productions has ordered a third season for A High School Rockstar?
...that episodes Vampires & Vests, Lies & Lollipops and Ghosts & Ghouls are part of Spooktober?
...that Jean-Luc Bilodeau became a recurring cast and appeared in the episode Vampires & Vests?
...that Richard Whiten who portrays Jimmy Starr is a minor cast but wasn't included in the official minor cast?
...that Usher will guest star in a future episode of A High School Rockstar?

To add more "Did You Know..." , click here
To write a new article, just enter the article title in the box below.
<createbox>break=no

buttonlabel=Create new article </createbox>
Help build our wiki by adding some pages.
Help us with the Characters' pages.
Check out the "Wanted Articles" list to see what is needed.
Help us change our Featured Articles here.
Before creating a new page, check to see if the same page with a different spelling exists.
When editing on a page make sure they're links on the page, otherwise its a Dead end page.
If you have a question, you can ask any of the Admins
All information in this wiki is all found on the internet and some are made up. Not all of the information here is a fact and most are just a work of fiction, including locations, stores, characters etc. Most information is taken from public sites like:
and others.
New Article • Getting Started • Admins
There are currently 7,461 edits to 431 articles since April 2012.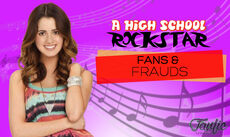 Fans & Frauds will air in...
November 1, 2014 18:00:00 PDT Please enable javascript on your browser.
Interested in being an affiliate? Click Here!
FFC renewed its hit series, A High School Rockstar, for a third season, which will kick off in the winter! Aaron Moon will come back as the writer for the series, including some of FFCs most talented, Daniel Arch and Alexis Carter. Kenneth Padilla also returns to co-direct with Moon. Production has started this early June and will go on until the spring of 2014.
The new season brings in big stars like Katy Perry, Taylor Lautner, Mila Kunis, Stephen Amell and more! With big stars, also come big episodes! With crossover episodes with Shake It Up! and Good Luck Charlie. A special episode is also currently in pre-production that will be announced sometime in the Fall.
As Team Austin starts new chapters of their lives, big changes happen in Miami. Austin goes to the next level when other famous recording companies offer him bigger records. With her newfound courage, Ally is getting closer to achieving her dreams, and even getting a record deal. The duo Dez & Trish finds them selves in a closer relationship, but tries to keep it a secret. Aaron tries to uncover his past and discover huge revelations in the process. With her recent breakup with Aaron, Lexi finds it hard to move on but when he meets an unexpected guest, she becomes confused with her feelings. Tyler is passed down with a huge responsibility that could prevent him from becoming a singer. Throughout the challenges they face, they stick together and act as a team to be able to reach their dreams as graduation is nearing.
For more news, visit the News Tower.