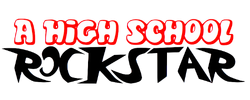 Welcome to the newest feature of A High School Rockstar Wiki! This idea was from the Austin & Ally Wiki. This features weekly news and updates about A High School Rockstar, from the producer and writer.

Season 3!
On October 4, 2012, Laugh Productions has renewed A High School Rockstar for a third season with the success of its first season. Creator, Aaron Moon, first considered a "sequel" to the series but instead went on with a third season. "2 Seasons for A High School Rockstar would be too short," said Moon. He will be back to write the third season. Season 3 will be much less different than the current season. Moon doesn't want to give away any spoilers for what comes in the finale of Season 2.
Laugh Productions has ordered 18 episodes for the third season. Production will start in December 2012 and will last until the summer of 2013. It is expected to premiere in the late 2013. Chris Hart & Alexis Carter will be back to co-write with Aaron Moon. Emma Rosales will join the crew and will co-write 5 of the episodes. Ross Lynch and Laura Marano has been the only main cast that's been confirmed. Moon is planning to take A High School Rockstar to longer Seasons until each and every character in the series graduates High School. Amy Arden and Kenneth Padilla will direct most of Season 3.
Spooktober!
Laugh Productions has prepared well for this Halloween Season. Spooktober starts off on October 6 with a Halloween-themed episode of A High School Rockstar! Vampires & Vests premieres on October 6 at 9:30/8:30c. Halloween is nearing but the spook in Miami is already starting. Famous singer, Jane Grant, visits Miami to perform in the Mall of Miami and Dez thinks that she is a vampire. After much investigation, the gang has come to a conclusion. They plan an attack to stop the evil plans of a vampire that is trying to kill everyone, including Austin. On October 26, Laugh Productions Original Movie, A Touch of Paris: The Movie premieres! The event concludes with A High School Rockstar's Halloween Episode, Ghosts & Ghouls, premiering on October 31, 2012.
News Tower

Our newest feature in this wiki. The Austin & Ally wiki has yet done another great job in keeping viewers up to date with their news center. And now, we will welcome our very own, News Tower! It would be updated weekly starting this Saturday for a weekly news update. If you have any questions, just put your comments below.
A High School Rockstar News Archive
June 2012
Movie Cancellation
On June 26, 2012, Laugh Productions and writer, Aaron Moon, has announced that A High School Rockstar The Movie has been cancelled. They have put aside this movie, to be used in the future possibly. Technical problems has also affected the release of Break-Ups & Battles, which will be moved to Sunday, July 07, 2012. The writer is now working hard to an all new season of A High School Rockstar.
July 2012
Episode and Awards
We are happy to announce that the episode Break-Ups & Battles, will be released tomorrow at 8/7c. After all the conflicts that caused it to be rescheduled twice, it has finally found it's date to be released. Also, the Austin & Ally Awards 2012 which was suppose to air last saturday, will be released from Sunday to Tuesday, with a four to five parts.
October 2012
Season 2 Premieres!
Season 2 has finally premiered! It started off with the episode Secrets & Snakes. The premiere is a success receiving positive critic from YouTube users.
Cast Tweets
Ross Lynch
<twitteruser username=rossR5 limit=7 />
Laura Marano
<twitteruser username=yaylauramarano limit=7 />
Raini Rodriguez
<twitteruser username=raini_rodriguez limit=7 />
Calum Worthy
<twitteruser username=calumworthy limit=7 />
Stefanie Scott
<twitteruser username=stefaniescott1 limit=7 />
Spencer Boldman
<twitteruser username=spencerboldman limit=7 />
Jack Griffo
<twitteruser username=littlejgriffo limit=7 />