Star Quest (Previously known as "Instastar") is the management and subsidiary of Fanfic Channel Network. It was designed to give the spotlight to rising stars on social media platforms including Twitter, Instagram, Tumblr, Vine and Facebook. Star Quest uses its talents in Fanfic Channel Series.
Development
[
]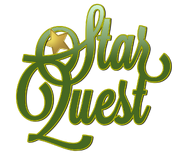 Aaron Moon once introduced the idea of this project that was called, Instastar, which gives social media users opportunity to star in Fanfic Channel series. It was first introduced during the announcement of A High School Rockstar's third season renewal. It was also announced then that Ally Gawrys and Benjamin Peltonen would be one of the few Instastar talents.
On April 2014, it was announced that the management name was then replaced with "Star Quest" followed by the official date of its announcement. It will be introduced to public on May 10, 2014 during the Fanfic Channel 2014-2015 Upfront with four of the newest talents. Unfortunately, Ally gawrys and Benjamin Peltonen are not included in the talent list. It is also rumored that the four newest members will guest star in A High School Rockstar and will also star in an all new short series about a reality show titled Big Brother.
Talents
[
]
It was hinted through writer Aaron Moon's twitter account that Gage Gray, sister of actress Mollee Gray ("Teen Beach Movie") is a possible talent of Star Quest. A few twitter accounts that Aaron follows are Bethany Mota, famous Youtube star, and Sean Melton, a gymnast, suggest that they could be on the list.